The sky is the colour of winter. A little bit hazy; a little bit far away. Like high-school rugby matches from crowded concrete stands. Like long Grahamstown walks past frost-whitened fields. Like quiet days studying for mid-year exams.
The air is still warmer, though. Still a sunny Autumn day. Still warm for now. Later there will be a chill in the air. Later the days and the evenings will be colder.
It took me many years but I think I've learned to love Autumn, just a bit. The leaves are beginning to change. I noticed it yesterday. The colours make me think of Daegu, now, and the spectacular Korean Fall. This picture was a trip to visit a friend in Seoul.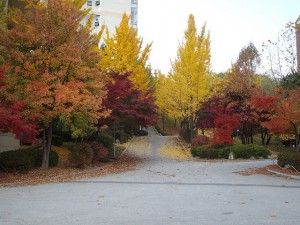 Joburg never quite matches that but Zoo Lake and Emmarentia Dam are pretty and the Joburg flowers add their little bit – purples and reds, from bougainvillea to bottlebrush to the sweet scent of the last few yesterday-today-and-tomorrows.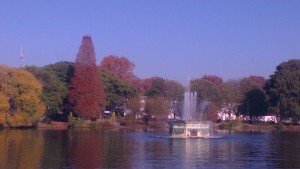 The mornings have a chilly edge, too, and there is a glare in the air that wasn't there during the sunny months. The sun slips and slides through the Jacaranda trees as I walk to the station in the morning. Some days I stop for coffee and just enjoy the depth of the sky and brightness.
Today I sit on my pleasantly warm balcony thinking about Autumns past, as a quiet weekend gently drifts away.
Sunday soundtrack: Johnny Cash & Kris Kristofferson – Sunday Morning Coming Down