A week ago, I woke up in Paris. The idea still makes me smile. I did some work and got organised, then headed down the precarious steps to check out. A quick breakfast of coffee and croissant (and sadness that I can't do this every day). It had rained in the night and the morning was fresh. It felt more like a European city than the sunshine of the previous day. It was really pretty. I headed off to the meeting that was the official reason I was in Paris. The meeting ended sooner than expected and rather than remain at the office, especially as I had gotten a lot of work done that morning, I headed out again to enjoy Paris just a little bit longer.
I planned just to sit along the marina and enjoy the view, but I found myself walking back towards Notre Dame. I walked along the river, along the Seine, thinking about the history and the way people must have lived in those buildings and the people who lived and who live in those beautiful attic windows.
I didn't go as far as the Notre Dame – it looked a little dusty and windy, so I decided just to enjoy it from a distance. Instead, I spent a happy 20 minutes picking out souvenirs. Yes, I realise that is terribly touristy but it's one of the things I really enjoy about travel, choosing something to bring home. Besides, I wanted to remember Paris. My thought over coffee that morning had been that Paris seems an eminently liveable city. I could live here. Not something I normally say about anywhere outside of Africa, and a feeling that should be tempered by what I know about how expensive Paris really is. Still.
I walked back past the Hotel de Ville and along the river. Far below, beside the water, an old man and an old woman sat in garden chairs, she with an umbrella in case it should rain. On the ground between them was bottle of red wine. Oh, to grow old in a city as beautiful and convenient and bohemian as Paris.
The receptionist at the hotel, when I picked up my bags, looked a bit perturbed when I refused her offer to call a cab and instead said I would take the subway back out to the airport, but I had directions from a colleague in the Paris office, so I ignored her dismay. Into the Metro, where a very business-like woman helped me to buy a ticket – I didn't really need help but I'd gone to the window instead of the machines, where apparently, which I didn't know, it was only possible to use a card not cash, so she clearly felt I needed to be assisted all the way through the process on the now-English language machine.
Ticket in hand, I set off on the trek to find the right platform. The trains here worry me just a little, with enough light in the tunnel to show the expose wiring and the open doors providing a clear view of the lurching twists in the track and the run-down 70s decor. Such a contrast with the Gautrain. Just a few stops and then a train to the airport. Out of the window, I caught a flash of an old stone building with beautiful flowering wisteria around the wooden, top floor windows.
At the airport, I set off through the maze of passages and eventually found my terminal/gate and settled down with a delicious baguette, trying to ignore the soldiers with large guns who were, for some reason, patrolling the airport. Automatic check-in machines, find the right counter, through security and wander towards the gate. The airport – well, at least the bit I was in with the flights to  Europe, was crowded with people. Small children ran around, parents looked harassed and business travellers looked long-suffering.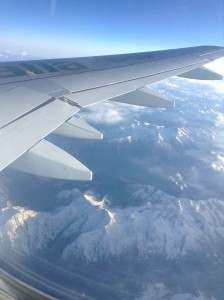 I was flying to Rome. This was only my second trip ever to Europe. It felt so odd not only to have had the opportunity to explore Paris but now to be heading off to another European capital that has existed, for me, only in stories and pictures. I boarded the plane, realising with a sigh that the person in the seat next to me was a very small (admittedly cute) little girl with brown curly hair and
green, green eyes. Her vociferous objection to the seatbelt subsided once we'd taken off and I settled down to read. A little while later, I looked up and glanced out of my window. Far below, as far as they eye could see, were soaring mountain peaks, white with snow.
We land in Rome and the pilot makes the usual "Please remain in your seats" request. Before we've even come to a stop, everyone is up and out of their seats. I let them go – I was in no hurry.
Fiumicino Leonardo da Vinci Airport of Rome. Another airport with poor directions and miles and miles to walk. I eventually found the baggage reclaim and then found myself wandering another good 10 minutes to find the train station. I asked for a ticket for Leonardo Express. The woman at the counter took pity on me and said there is a shuttle bus (mini-bus) leaving immediately. I just reached the shuttle in time and sit back, barely noticing the city as we headed towards Rome.
I got out at Termini, the main train station in Rome. The hotel would be nearby but I was nervous of getting lost – I have even less Italian than French and I didn't trust the map I've been sent. The taxi driver I approach, however, was adamant that the place was just 400m up the road. Which is how I found myself lost in Rome with my all bags, at 10 o'clock at night, trying to figure out how I had accidentally misplaced a large, stone church that was supposed to be my landmark.
After wandering around for a while, I spotted some taxis (sitting, as it turns out, in the shadow of the church) and went up to them, determined this time to take a cab. The driver looked at me with pity and pointed to the hotel, across the road and a few buildings up the street.
The man at the hotel handed me the key to room 52 and cheerfully informed me that it was four floors up and no, there was no lift. I was too tired to argue. Not that I'm complaining now – in fact, it was the perfect option – I got to stay in one of those beautiful attic rooms, with double-door shutters opening onto a gorgeous rooftop in Rome.